Everyone that comes to Yogaha has a story. I asked Nick Grainger why at 65, he's racing bikes and coming to yoga.
It's the speed. Cadel Evans calls it low level flying. Crouched low over the front wheel, at anything between 40 and 70kph, reliant on a few millimetres of rubber on the road, legs heart and lungs at their very limit, I'll flash across the finish line, taking 500 metres to slow down, for life to return to its normal, rather ambulant pace. This is bicycle time trial racing. Each individual rider against the clock over a 20-30km course. No hanging back, no drafting behind other riders, no last minute sprints, just as hard as you can go over the distance. And always the question, how can I go faster?
This sport requires a highly repetitious leg action (17,000 pedal strokes on a four-hour training ride), a cramped up position low over the top of the bike to minimise wind resistance and achieve the most aerodynamic position, whilst delivering maximum power to the pedals, and maximum air to the lungs,
Every joint has to be in top condition to cope with the highly repetitious action, extreme aerobic fitness is needed, muscle endurance, strength, flexibility, low body mass, deep concentration, and good bike handling skills. An interest in technology probably helps.
And always, how can I go faster?
"Why don't you come to yoga with me?" my wife Tomoko would often say as I went through my everyday post ride stretching routine. "Too sedentary" I'd reply, ignorantly.
………..
I'd always enjoyed cycling but it somehow hadn't fitted with a young and growing family and a corporate career. Maintaining fitness was something I came to do in a gym, whilst my once treasured Carlton Super Course light steel race bike from the 80s hung on the garage wall, under a deepening layer of dust.
Everything changed in 1999 when my daughter Erica persuaded me to ride with her on the Great Victorian Bike Ride. An annual event, nine days and about 600km of riding, camping every night with a few thousand others, through country Victoria. Every day at your own pace, anyone can do it with a little preparatory training. The bike came off the wall. We started training together. At 49, I remembered how much I loved cycling.
Slowly, and without really realising it, my obsession grew. I discovered I could ride a little bit faster for a little bit longer than most of my peers. They encouraged me with advice on training, on bikes, they took me to races. I discovered my thin stick like body was actually good for something. Racing in the highly competitive Masters categories, I started to win. Eleven years later I raced in the Australian Masters national championships, losing to a New Zealand rider by just 20 seconds. To win the next year I needed to go just over one second faster per kilometre. How could I do that? Become fitter? Stronger? Reduce wind resistance? All three I guessed. But they were all linked.
Wind resistance is reduced by making the rider's frontal area smaller. Like a downhill skier going into a tuck, cycling time trialists have adopted a similar tuck position that minimises wind resistance. A high saddle and narrow low front bars, elbows supported on narrow pads, forearms extended forwards, back near parallel to the ground. Yes it minimises wind resistance, but can compress the chest and diaphragm making it hard to breathe, it can be difficult to exert power through the legs, strain the neck holding the head up to see where you are going, and be hard to control the bike because your hands are so close together and extended so far forward. How can anyone ride to their maximum in such a position? I had to find a way of delivering my fitness and strength, in the most aero position I could hold for the duration of a race.
I was looking for just one second a kilometre.
"Why don't you come to yoga with me?" She was going on about it again. I've learnt that my wife Tomoko is usually right. One second a kilometre. Maybe it might just help me to get lower on the bike and maintain power. And give me that one second.
And so it started.
Six years later, with 7 national titles won and currently ranking 8th in the world in my age group, yoga is an important part of my training, having delivered far more than a second per kilometre by 'just getting lower'.
I realised that it wasn't so much about 'getting lower', but about improving lower back flexibility, so I could rotate my pelvis forward. This had the effect of flattening the middle part of my back, but this in turn put pressure on my abdominal muscles and back muscles to provide core support in this position and avoid just slumping onto my forearms. And also on my neck, holding my head below my bent over shoulder tops, but up enough to see forward.
By now a regular at Yogaha in Ripponlea, James Bahuth was interested in what I was trying to do. I took my time trial race bike in to his studio, together with race photos showing the position I was seeking.
Researchers have found that with the pelvis rotated forward, the power applied to the key pedal downstroke increases with the ability of the athlete to reduce the knee angle at the bottom of the pedal stroke to close to 30 degrees, without rolling the hips from side to side or coming close to locking the knee. This enables the greatest power to be drawn from the large quadriceps and glutei muscles. So the seat has to come up as much as possible, and hamstring flexibility developed to enable the full advantage of long leg length to be gained.
James: It was really quite amazing to see Nick on his racing bike! Here was a man tall by any standard, positioning for racing on this streamlined, feather-like bike. It was apparent Nick's lower back and pelvic rotation needed addressing. The loss of space in his front pelvic plate and lower abdominal region meant the breast-plate shortened, which in turn culminated in over tightening the shoulders. Any good yoga shape speaks to the foundation and with that in mind we both addressed the relationship the feet-legs and pelvis have with the spine and how he can maximize power to be delivered thru his whole system, rather than singling out any one body part.
I guess as a yoga practitioner my feeling goes to what post-riding asanas can Nick adopt to counteract the racing position. Adho Mukha Svanasana (Downward Dog) is an obvious one, so too Uttansana in releasing the backs of the legs and reducing fatigue. Simple shapes like Adho Mukha Virasana that restore pelvic rotation with necessary supports like bolsters hold a key in bringing back an internal space to the shape. As you know yoga shapes are not so much about stretching but creating space for extension whereby one can feel the whole body.
Nick also worked a lot in classes with rope traction mainly for the legs and arms. That being where the load of the body is taken off the arms and legs and extension can work more directly on the spine. Urdhva Hastasana (ropes) and again Adho Mukha Svanasana (ropes) inform the spine which in turn restores the central nervous system. It is the nervous system of the body that yoga asana really speaks to.
In considering the actual racing position I was keen to see how Nick was tracking the knees in relation to his footwork. I had had some experience previously working with Olympic rowers, cycling speaks to the same method. As with the rower, the cyclist's feet inform the knee and how it tracks. Good contact thru the balls of the feet-to the pedal- and full extension of the inner heel bone deliver an upsurge or energetic line to the inner knees. It's the stabilizing of the knee joint and in turn it's rotation from the inner knee to the outer knee that speaks to the thigh-bones and their rotational freedom in the hip sockets. The emphasis here being on joint freedom thru the legs and pelvis as a way into the spine. Perhaps an easy "fix" would be to go directly to the upper body, however such an approach bypasses the foundation which in turn reduces the power of an energetic shape. What we're left with is movement around joints, or in the case of misaligned tracking lack of movement.
Shapes that helped to support the legs like Utkatasana, Malasana (feet hip width), Parsvakonasana, Virahradrasana 1&2, forward Vajrasana (on the balls of the feet) all speak to good tracking.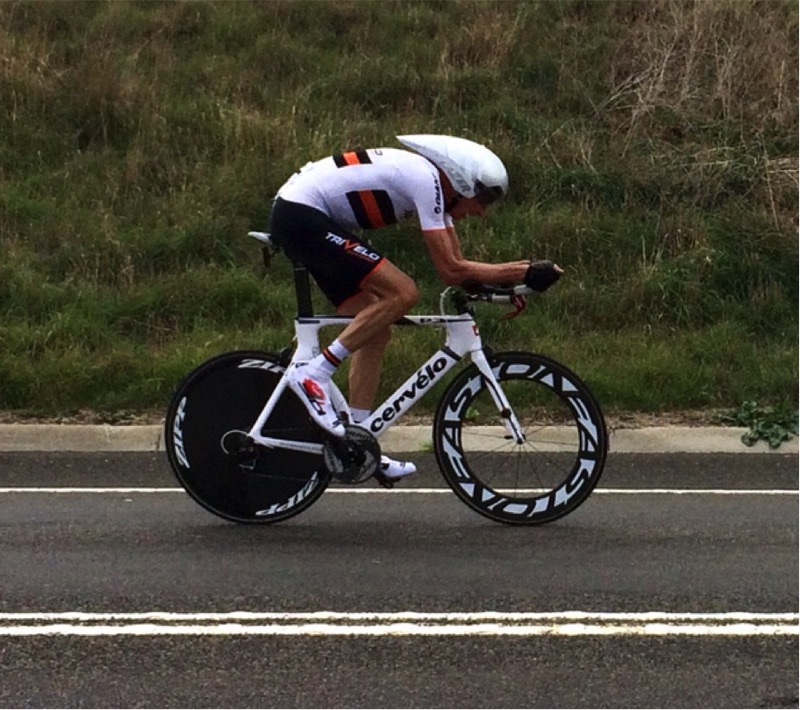 Slow improvement. A number of asanas became part of my post riding routine after every training ride.
But there were unexpected benefits too.
My balance improved as I pushed to achieve better form in the standing poses.
I learnt about Pranayama and started to manage my breathing in a whole new way both in races and during recovery.
I learnt about the power of the asanas to 'quieten the body' and thus enable the peace and relaxation of the meditation, in which I learnt to visualise a coming race in its finest detail, and how I would respond.
But perhaps most importantly I'm learning that in the end to compete at the top level one needs not only physical capability but a mental calmness and focus, which yoga seems to give. But so too I am learning from other yoga students that actually this extends to every part of life. Each person finding the benefit beyond the physical, in their own way.
Today yoga practice for me is an integral part of my training, as important as the intense interval training on the velodrome, climbing in the Dandenongs, and high cadence sessions on rollers, and for that I must thank James Bahuth, and other yoga teachers, who over the last six years have both guided me and shown me great patience. But most of all thanks to Tommy, who of course was right.